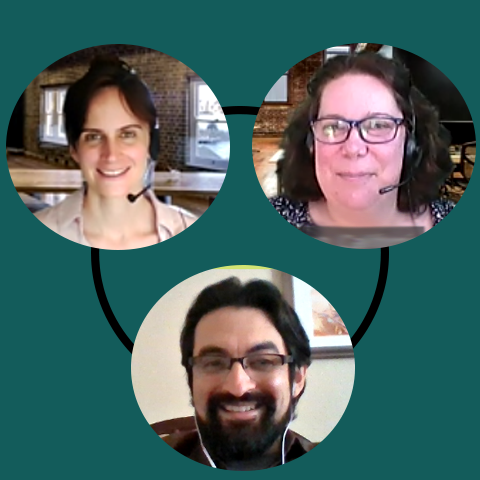 We came together in spring of 2020, drawing on our years of interpreting and training experience to experiment and build expertise on technology for remote interpreting. Through this process, we began teaching others what we learned, and we found that as a T.E.A.m, we could offer outstanding and innovative problem solving for interpreters and language service providers who are working to transition to remote delivery of interpreting services, and formed our current partnership as T.E.A. Language Solutions.
Our expertise is in using Zoom and Webex for remote interpreting. While we encourage our clients to choose a platform that includes the architecture necessary for simultaneous interpretation, we can also create user-friendly solutions to allow you to provide simultaneous interpreting for events that must be held in platforms that without this functionality. We can livestream your event to the social media platform of your choice with your branding as well. We enjoy planning events down to the finest detail and providing expert technical services to make your virtual event go perfectly.
We have also pooled our efforts to test out different audio hardware and software configurations to choose solutions that we think make interpreters shine on the job. Individually or as a trio, we can provide support to you, your interpreter team, or organization on best practices in the use of technology for remote interpreting. We love solving technical problems for interpreters and the people who work with them, so please reach out to us to see if we might be a good fit to help you thrive in a virtual environment!
Tamber is a federally certified freelance Spanish court and community interpreter based in Washington, D.C. She is a tech and audio aficionado, with a passion for solving technical problems in virtual event management and for helping people look and sound their professional best, virtually. In addition to interpreting and experimenting with technology to deliver interpreting services remotely, she is a licensed lead trainer for Cross Cultural Communications' The Community Interpreter curriculum, and has been training and mentoring community interpreters since 2011. Since March 2020, Tamber has been working in her local community and beyond to provide support and education to interpreters and language service providers as they transition to remote training. She is excited about the potential that appropriately implemented technology and thoughtfully developed best practices in remote interpreting have for meaningful language access to public services, and the interpreting profession as a whole.
In her spare time, she sails FJs and Flying Scots on the Anacostia and the Potomac, and also enjoys snowboarding, cycling, and any place with trees and trails.
tamber@tealanguagesolutions.com
Ernest Niño-Murcia is a freelance interpreter based in Des Moines, Iowa. He received a B.A. in Anthro-Linguistics from Brown University. As a state and federally certified court interpreter, he has interpreted legal proceedings and prepared translations, transcriptions and expert witness reports/testimony for clients in the private and public sectors. Outside of court, he has interpreted for public figures such as Newt Gingrich, Bernie Sanders, Elizabeth Warren and Iowa Governor Kim Reynolds.
As a speaker and trainer, he has presented live and online sessions for interpreters on topics such as ethics, skill-building, vocabulary for interpreters through organizations including NAJIT, the University of Arizona's National Center for Interpretation and the U.S.Department of Justice, among others. He has also presented to groups of attorneys, judges and court reporters about court interpreter issues.
Additionally, Ernest is a Jeopardy! Champion (2012), whose greatest achievement on the show was beating an attorney to the buzzer to answer "co-defendant" in the "11 letter words" category.
ernest@tealanguagesolutions.com
Aimee Benavides is a Federally Certified Court Interpreter since 2015 and California Court Certified Spanish Interpreter since 2003. She started her interpreting career as an Administrative Hearing interpreter in 2001, and has worked as interpreter for over 18 years, including full-time staff and freelance experience. In addition to having worked extensively in court, she specializes in technical agricultural conferences and training workshops, focus groups that require simultaneous interpreting into English, and educational interpreting. She has presented workshops and webinars on transcription and translation as well as how to best use online resources to research for translations and interpreted events. Since the start of the COVID-19 pandemic, she has become very familiar with Zoom and has devoted many hours to training courts and individual interpreters on Zoom for remote interpretation.
She lives in Central California with her husband and 2 children. She is passionate about interpreting as a profession and enjoys seeing all that can be accomplished when we work together.
aimee@tealanguagesolutions.com