Finally: Add your own Zoom languages!

Since the interpreting community noticed Zoom's simultaneous feature and started to put it to use, one of the most frustrating aspects of the feature was the limited pre-set list of languages. Cantonese? You'll find it on the French channel. Amharic? Interpreting under the Brazilian flag today. Confusing and, indeed, insult to injury for interpreters and speakers of languages of lesser diffusion.
However, now that Zoom has finished its 90-day feature freeze to address the security issues that it was suffering at the beginning of the pandemic, we're getting all kinds of new gifts from the team at Zoom. We're still waiting on a relay function that doesn't require us to use two devices, being able to see what channel participants are in, and being able to hear our booth mates when we interpret (and many more wishlist items!). However, the great news is we can now do meetings with 13 non-English languages instead of just 8, and five of those can be customized. We jumped on with several of our favorite interpreter friends to try it out, and indeed managed to launch interpreting with 13 different working channels. You can also see one of Zoom's other new features, video filters, demoed in our Zoom selfie below! Full disclosure, our wonderful colleagues Alfonso and Dan didn't choose their filters; their computers/tablets were not filter-ready at the time of our meeting so I gifted them with the birds and the puppy face in post-editing so they could match. In case anyone wonders about their choices, those were, ahem, my questionable styling decisions and not theirs.
Photo credit for both the priceless Dothraki toggle screenshot and our expertly captured Zoom extravaganza shot goes to Ernest:)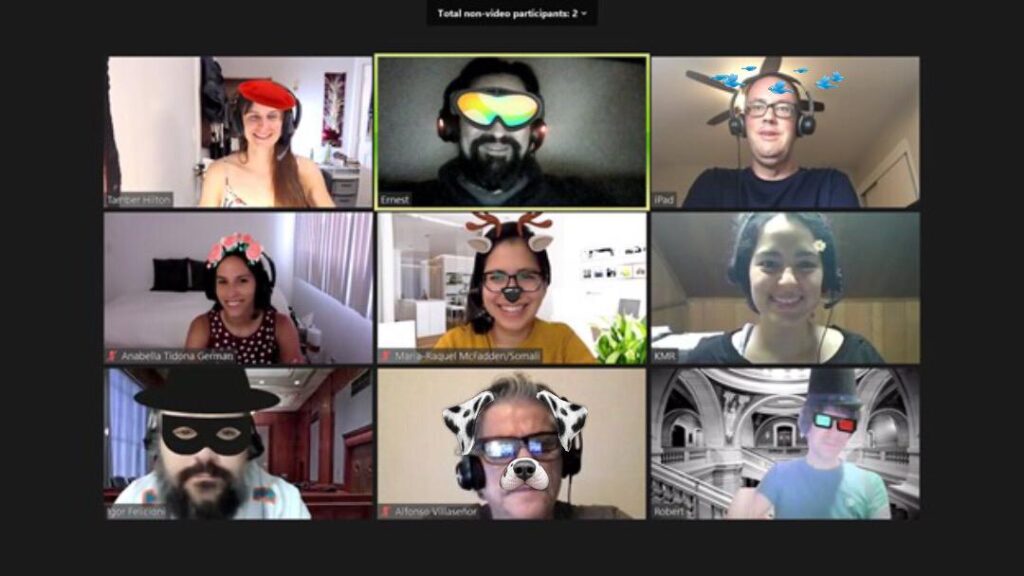 To set this up, just go into your account and find the option under Advanced Meeting Settings -> Language Interpretation. Add the languages you want, and at the next meeting you schedule, you will have those languages available in your languages dropdown.
One thing, be CAREFUL with the custom language feature. EVERYONE on the meeting (interpreters and participants) needs to update their Zoom client to access custom languages, per Zoom's release notes on the feature. I've already heard a story of a major meeting fail where interpretation failed to launch when custom languages were used, and worked when the host switched back to using just non-custom channels. I believe that this is because participants and/or interpreters did not update their Zoom. For now, until Zoom forces an update again, as it did in late May for security, it may be wise, in large meetings, to stick with the 8 pre-sets unless you can be sure everyone has updated their meeting client.
Finally: Add your own Zoom languages!